G&S BROSS - TECHBONE® XL NUTS
PRODUCT DESCRIPTION
We offer G&S Bross Techbone™ XL nuts for electric and acoustic guitars (metal strings), material specially formulated with high and exceptional performance for this purpose.
PRODUCT PACKAGING FOR INDUSTRY:
Plastic bag ZIP type with 1000 units (MQO).
PRODUCT PRESENTATION FOR WHOSALERS AND SHOPS:
GyS Bross - Techbone™ xl GUITAR nut per unit properly bagged with hanger.
MEASUREMENT
NUT: Radio 12"
| Length | Thickness | Height | Graph |
| --- | --- | --- | --- |
| 45 MM/1,77 IN | 3,2 MM/0,12 IN | 6.25MM/0.24IN FENDER ST/LP STYLE | |
(*) contraction percentage -1.2% with respect to the measurements reported above and depending on the type of material used.
TECHBONE™ CONCEPT AND OUR PURPOSE
G&S Bross Techbone™ is a specially formulated material, registered trademark of G&S Bross of high and exceptional performance for this purpose, with which we have developed a line of nuts for guitar in 2 basic designs; 1) LP/SG XL,2) ST/TL XL, counting these with a surplus of 0.25 mm per side and same distance E to E corresponding to each of the models for a precise adjustment according to the profile of the guitar neck.
G&S Bross Techbone™ nuts offer the highest quality of response and the most advanced technology applied to the manufacture of nuts & saddles to enhance the performance and possibilities that the musical instrument can offer.
Sincerely yours,
Sergio and Gabriela Caseres from G&S Bross.
PHOTOS OF THE PRODUCT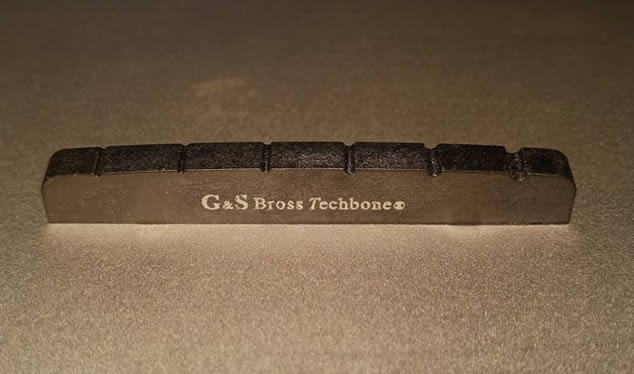 TECHBONE® SLOTTED FENDER STYLE BLACK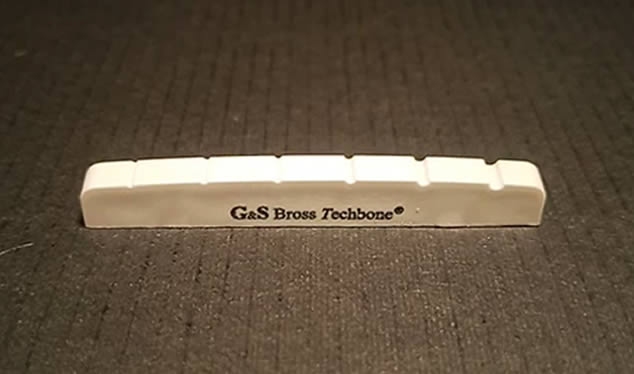 TECHBONE® SLOTTED FENDER STYLE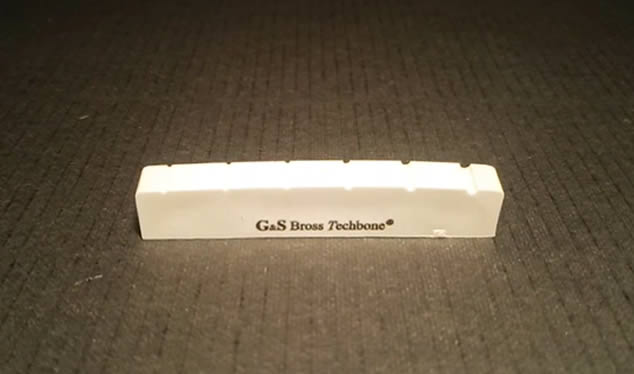 TECHBONE® SLOTTED GIBSON STYLE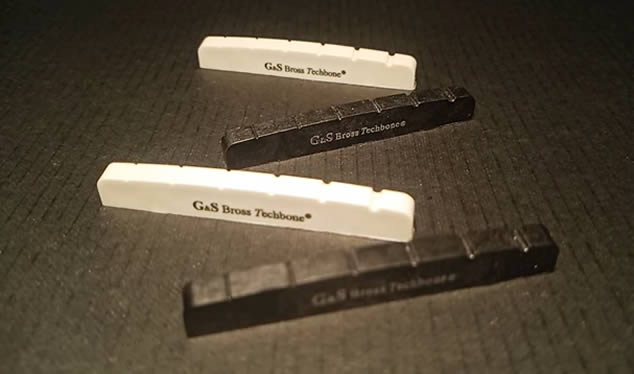 TECHBONE® SLOTTED FENDER & GIBSON STYLE BLACK AND NUDE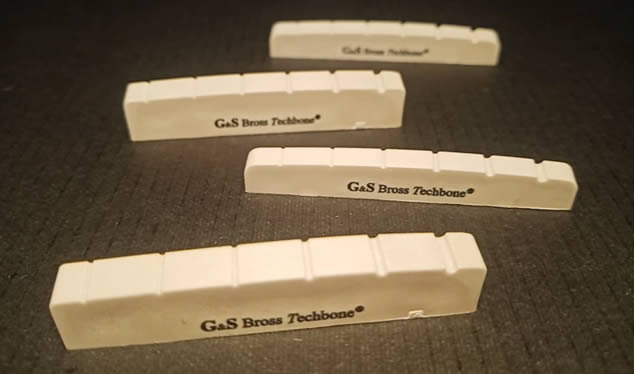 TECHBONE® SLOTTED FENDER & GIBSON STYLE BLACK AND NUDE